Flowers that bloom in the darkness is a sighting that is rare to come across.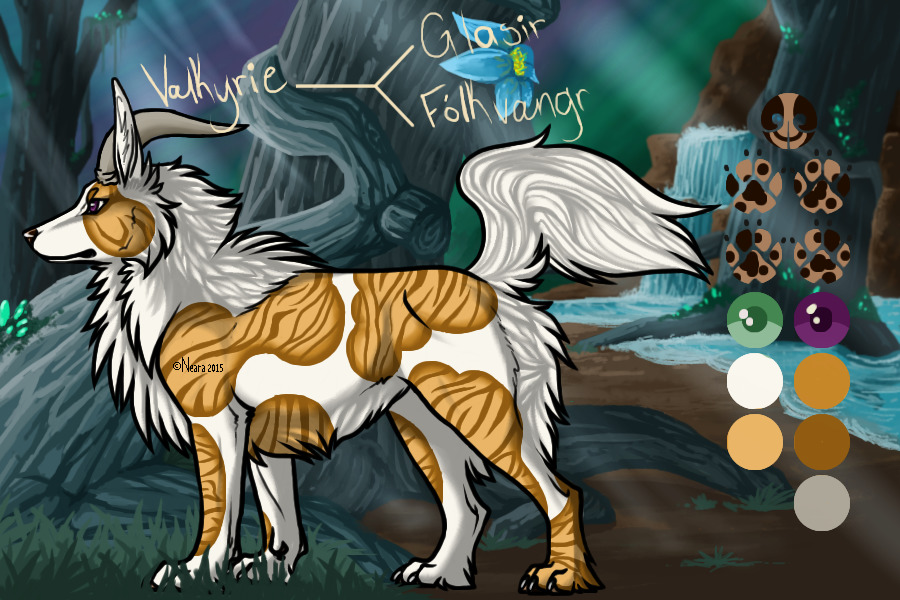 Name:
Valkyrie
Age:
50
Rank:
Master of Assassins

Equipment:
Valk's harness is more like a chest plate like the humans of the medieval times wore. It not only holds her weapon, but it also helps to protect her. It looks quite pretty, with a black cloak and feather bits on her shoulders.
Her sword is a large blade that she holds at the hilt and at the bottom of the hilt, there's a much smaller blade that she uses to her advantage.
Nobody seems to have noticed that the power that could be bestowed is lost.
Parents:
Folkvangr and Glasir
Mate:
Rukh
Theme Song(s):
Valkyrie by Varien ft. Laura Brehm
Birthday:
February 17th
Birth Stone:
Amethyst
Birth Flower:
Violet
"Faithfulness, Wisdom, and Hope"
Riding through the twilight, this armory protects my heart.

Star Sign:
Aquarius
Ruling Planet:
Uranus
Ruling Element:
Air
There's a voice that is calling. It's calling for me to go beyond.

Personality:
Valkyrie is a female that holds herself high, not just for appearance, but because she wishes to do so. She wants to be in control, precisely, at any given moment, regardless of the situation. She doesn't like things not going according to plan, but she's adapted to generally deal with it well enough. She doesn't say what's on her mind a lot, unless its an issue she feels very strongly about. Valk has never really desired the company of many, finding complete happiness in the company of simply one or two, and most often times, no one. She has a softer, more demure side she shows to those she truly, truly trusts, but it's something she isn't very proud of, and kind of hates herself for.
History:
Valkyrie was born into the pack before Xerxes was, but she was still young enough when he was born that she didn't mind befriending him. In fact, Xerxes was her closest friend for a good chunk of her life. She trusted him with anything, and confided in him everything. Xerxes knew everything about her, and she knew quite a bit about Xerxes as well.
There was one point where Valkyrie realized that her feelings for Xerxes had transcended that of simply friendship. She had a crush on him, and eventually the control obsessed female realized that she had fallen in love with erh friend, her future King. At the time, she had built this fantasy for herself that Xerxes would return those feelings to her, and that she might become his queen.
However those childish fantasies were crushed to dust the day a certain female came to the pack for refuge from Erebus; Freya. The female had somehow managed to steal all of Xerxes' love and attention without even doing anything to him. Xerxes became obsessed, and had gone from Valkyrie's closest friend to someone who wouldn't even give Valkyrie the time of day. His sudden transfixed attitude on Freya hurt Valk more than she could ever comprehend, and she drew herself away from Xerxes, and she concluded that she'd never truly like Freya, ever.
One day, Valkyrie was taking a small walk when she gave into a slightly childish behavior, and she started to chase a little yellow butterfly. The tiny, fluttering insect led her on a small chase, leading her awhile later to a male she had known about, but never met before; Rukh.
Where I've always been longing. I'm longing to find where I belong.

Soon this fight will come to an end.

This Valkyrie chose to defend...