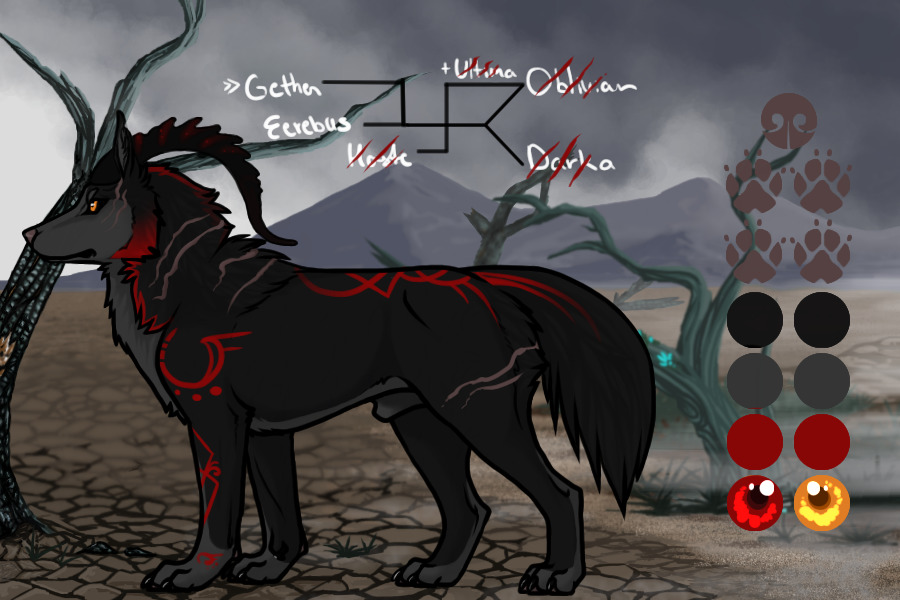 Name:
Gethen
Mate:
Ostry (dead)
Pups:
Dusk
Family:
Father - Oblivion
Brother - Gethen
Uncle - Prometheus
Magic
[DMU] His alleles  are: Mm - so 50% his pups will or wont have magic.
His magic type is plague - he is able to fight with this and slowly kill (Deadliness : 50-100%)
Location in the Vagabound land:
Erebus' Prison
Personality:
Gethen wasn't always dark, but his philosophy is "born dark, end dark." Once he was actually on the good side when Ostry was alive, her death threw him back into the dark abyss of his soul. He resides with his brother for now, but has a taste for blood, the blood of Cinna and Felidae to be more precise. So to sum it up : he is crazy, dark, lost in his own misery, angry at the world, and blood thirsty.
Weapon: